Why choose a nursing bra?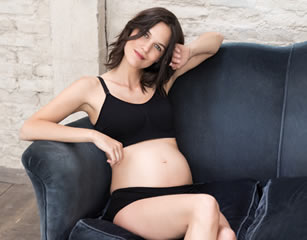 A woman's body is very changeable during this type of period that is pregnancy and breastfeeding, which is why it is preferable to use specific lingerie for these unique moments in the life of a woman. Not only to avoid damaging the underwear you have and in which you like to be, but also for reasons of comfort. This is why there are ranges of lingerie designed especially for these moments.
The pregnancy bra, an accompaniment to your body
This kind of underwear is designed to evolve with your body and not get in the way when your breasts swell at the end of your pregnancy and the nipples can become very sensitive. The pregnancy bra is ideal to end your pregnancy comfortably without feeling like in a too tight corset. The pregnancy bra will accompany you throughout pregnancy, with its stretch bras. Many models these days are suitable for both pregnancy and breastfeeding. So if you are going to breastfeed, make just one investment.
Breastfeeding bra, to combine business with pleasure
Nursing lingerie is produced to adapt to this stage which requires a lot of manipulation of the breast. The nursing bra has openings at each breast to allow your baby to breastfeed without having to take the breast out of the bra each time. The opening is wide enough not to interfere with this intense moment for mother and baby.
But since being a breastfeeding mother does not mean that you are no longer a woman, there are sites and traders who specialize in this kind of lingerie to be able to offer varied ranges and not just the so sad traditional white nursing bra. Indeed, breastfeeding lingerie specialists nowadays offer colored breastfeeding bras, but also matching top and bottom lingerie, special large size bras, and even garter belts and garter belts. You will find more and more sets made from organic tissue. Almost all sizes are available and very often, express deliveries are made, because we rarely know with great precision when the baby will arrive and especially what the size of the breasts will be after the milk rushes. And since you can't decide until the last moment, you have to buy when you need it, the fast delivery being an advantage to be taken into account at the time of the order.
The prices of this kind of underwear are higher than those of classic lingerie, but the materials must be able to adapt to changes, without reducing your comfort, and the opening systems for the nipples must be solid throughout. by being practical and easy to use. The support of the chest should not be neglected in favor of the elasticity of the materials. All of this comes at a price, but you won't regret it afterwards and your body will thank you for it.