Luxury lingerie: a real pleasure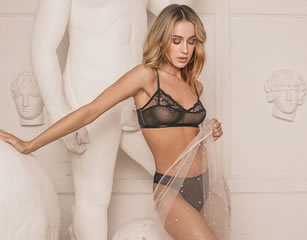 Luxury is something rare, precious, which takes us out of everyday life and transports us to a world of wealth and beauty. Luxury is also elegance, and in this area, luxury lingerie is a perfect example. In turn full of charm, mischievous, noble or a style that evokes another time, luxury lingerie has always had its place in our closets. Often reserved for special occasions, in order to preserve its exceptional side, some decide to wear only high quality underwear, to feel like a princess every day. But for those who choose to reserve this treat for occasions that are truly worth it, here are a few suggestions that will help you make the right choice.
The wedding
The wedding – or rather the wedding night – is undoubtedly one of the best occasions to wear luxury lingerie. The very celebration of love, this great event requires that we go out of the ordinary and adopt a sexy attitude. But in order not to risk falling into the vulgar, a very luxurious lingerie is essential: for you the push-up bra, the garter belts and the lace thongs. A basque can also be interesting. In terms of color, white remains a great classic, which retains a certain innocence. But to evoke passion, you can opt for a glamorous red, which will highlight fair skin and sublimate dark skin. Do not hesitate to add a little fantasy by choosing, for example, a white or powder pink set enhanced with details or colorful embroidery.
Valentine's day
The lovers' party deserves to be irresistibly sexy. Here again, luxury lingerie allows you to bring a refined touch that will highlight your best assets. Small chest: opt for a push-up bra, voluptuous hips: a fluid-cut nightie to delicately hug your curves, a very thin waist: dare the basque. In short, anything goes, and it's not your partner who will complain! For colors, set the tone! Even if the red is considered to be de rigueur, nothing prevents you from showing yourself mysterious thanks to a sexy black set or why not flashy colors which will bring a touch of madness.
The birthday
There are many birthdays: whether it is to celebrate the birthday of your sweetheart, that of your meeting or that of the day you said "yes" to yourself, a celebration is in order. Without necessarily falling into nostalgia, it can be nice to wear underwear that will recall the occasion celebrated. You can of course add small more current touches, for example by changing the color of your outfit, or on the contrary by keeping the original color, but choosing a more fashionable shape. Birthdays are a good opportunity to rekindle the flame and show him that you still have passion for him: you can also wear lingerie just for him, taking into account his personal tastes, even if it means going out a little. beaten track…