Pressotherapy reduces and eliminates cellulite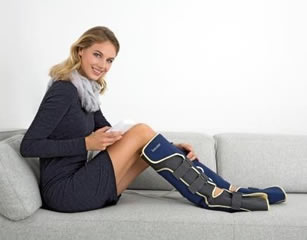 The pressure therapy device is used to remove small pockets of fat in the human body. The presence of these pockets gives the skin an irregular appearance, as they are lumpy in nature and are mostly found on the legs. This device is able to overcome this problem by deep physical stimulation. Research has shown that pressotherapy helps blood flow and tightens the skin. Each treatment session varies from around thirty to forty minutes and is repeated on a weekly basis for almost eight weeks.
Pressotherapy promotes the circulation of oxygen in the body and helps restore damaged skin tissue. The other advantages of Pressotherapy Besides beautiful skin, this treatment has many other medical applications. Diabetes and hypertension have also been shown medically to be one of the reasons for poor blood circulation. CE medical devices reduce fat and promote blood circulation.
The blood circulation is known to relieve numbness and pain in the limbs and prevents discoloration of the skin. These devices are also compression pumps and can be used for such purposes as reducing edema, as well as for lymphatic drainage.
For many people this method is associated with slimming, detoxifying and reshaping the body. Many people with deep vein thrombosis choose this method because it is painless and non-invasive. Pulsed Light Treatments Use Non-Coherent Light Pulsed light hair removal is basically the use of the combination of a pulse and wavelength of light to destroy the hair follicle.
This treatment is carried out by an operator handling a handpiece connected to the machine which emits a light wave penetrating from the surface of the skin to the hair bulb. The light emitted is converted into thermal energy which ultimately results in the removal of hair by destroying the hair bulb.
This method has gained immense popularity because it is almost painless compared to the pain that can be caused by removing a strip of hair removal wax. Longevity of Pulsed Light Treatment Pulsed light treatments significantly reduce, and in most cases even completely, the presence of hair in the area that has been treated. Even though the hairs grow back, they are very fine and difficult to see with the naked eye.
Treatments generally range from five to six sessions, one to two additional sessions may be necessary in some cases. A notable feature is that this method only treats the hair follicles that are active during one session, which is why it is necessary to spread the treatment over several very spaced sessions.
This method is most effective for people who have a great contrast between the light complexion of their skin and the dark of their hair system. After treatment with pulsed light, it is recommended not to expose the treated area to the sun.