The men's shirt: timeless!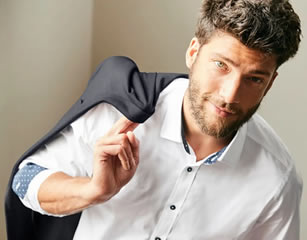 There are many very chic typically men's clothes, from men's sweater to men's coats and suits… But the men's shirt certainly remains the timeless garment par excellence for men. Whether worn with canvas pants, suit pants or with jeans, the shirt always brings a touch of class to the outfit.
Men's shirts for all tastes
As much according to your personal tastes you will choose a suitcase, a pair of shoes or a pair of pants in a clothing store, you will always find a superb shirt that will perfectly meet all your desires and preferences. Whether you have a sober or eccentric mood, whether the shirt is plain or patterned, whether it is slim, superslim or straight, you will never tire of wearing it, as long as you choose it well according to the circumstances.
The shirt is synonymous with elegance, it is the garment in which you feel good, the one which allows you to vary the pleasures, which dresses you and highlights you! If you go on a sunny weekend, preferably opt for models of fashionable men's shirts in white or light blue, it will highlight your tan more. If you are having a company dinner, then prefer a plain fitted shirt, without a tie, with dress pants, for a relaxed attitude. If you have fair hair or skin, highlight yourself with a dark-toned shirt.
A suitable shirt for every occasion!
The men's shirt is a trendy garment and for this reason it is available for every type of occasion. You can stay classy and fashionable at any time in your shirt, both in terms of color and cut. For work and for everyday life, beautiful shirts in bright colors (pastel blue, sky blue, pink…), in jacquard, polka dots or checks are available. They also provide great comfort to the wearer thanks to their curved shape. For social evenings and ceremonies, luxury must be the order of the day! Thus, you can accompany your tuxedo with a plain white or black shirt. The striped shirt will do very well for chic evenings where the goal is to stay trendy while being more glamorous.
The men's shirt, pure elegance!
The men's shirt is the garment that has not gone out of style over time. It has become over the years and has remained the top par excellence for men, and still finds its place in our wardrobes by bringing finesse and elegance, not to mention everyday comfort. Anyone today can find a shirt that suits them very well and that can adapt to a particular use, or several at the same time. The models available are indeed very numerous and adapt to everyone. But nowadays when most men place great importance on their look and the comfort of the clothes they wear, the fashion shirt is what is becoming more and more trendy.