Collar styles: a great way to stand out with a shirt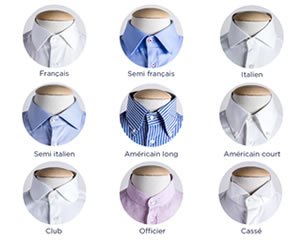 Double collar: This type of collar has been fashionable in Europe for some time, it has even already found its way beyond the oceans, we can even see it in the wardrobes of trendy American men. There are many variations, but in general, a double collar shirt consists of an outer collar affixed to a second collar which allows the designer to offer two types of fabric, usually in contrasting patterns and / or colors.
An excellent example of this type comes from the couturier Franck Michel. Franck Michel designs many double collar shirts for men, and one of my favorites is the Paris blue gingham (limited edition) currently available for just under 80 Euros on hommefashion.fr. This particular example, combining a navy blue collar over a light blue gingham collar, really catches the eye while remaining stylish and trendy.
Reverse Collar: This is a one-of-a-kind collar design that was invented by Franck Michel in Paris. It is an elegant style that ingeniously allows the use of unusual fabrics and the combination of complementary colors. This is a perfect example which characterizes Franck Michel in his ability to always innovate in the world of men's shirts.
Franck Michel offers many styles with this type of collar, my favorite being the Miami model, more precisely the Miami-Red luxury men's shirt, which is available on hommefashion.fr for 79 Euros. Reverse collar shirts aren't for those who prefer to stay in the shadows, but rather for those who aren't afraid to stand out. Take a look at Franck Michel's Miami models and I'm sure you'll agree with me.
American Collar: This is an excellent example of the fusion of American and European influences transcribed in Franck Michel shirts. The American collar was first introduced on sports shirts in the United States. In the 1960s, it would be popularized as a more formal style by American fashion icons like John F. Kennedy. Franck Michel has updated this traditional American shirt by adding a typically European touch.
By making the collar taller and more racy, the stylist accentuated the formal character which is different from the original American look. This blend of transcontinental style is the very essence of Franck Michel's modern look. The mix of characteristics and stylistic details specific to each culture allows the couturier to achieve that international look that sets Franck Michel shirts apart from those of the competition. A good example of this Franco-American blend is the Eiffel range. Available in black, blue and white, these men's shirts sell for 69 Euros on the internet and are a great addition to any modern man's wardrobe.